Whenever dental practices need employees for front-desk administrative assistants, dental hygienists or dental assistant temps, Dentu-Temps is here to fill your opening! No matter what type of dental temp employment you need you have on your staff, we are able to meet it quickly to prevent you from being understaffed for an extended period of time.
Here are a few of the services we provide when you need staffing in Palo Alto, San Mateo County, Santa Clara County, or the San Francisco Bay Area, CA: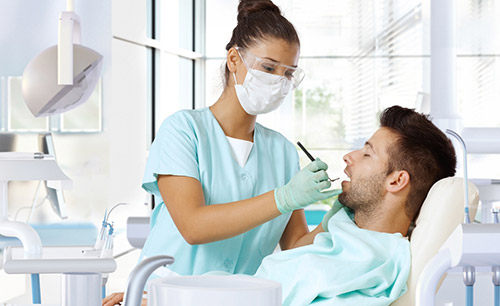 Full-time employment: While the amount of full-time employees we staff makes up a relatively small percentage of our services, we are still able to find employees available for full-time positions at your dental practice.
Short-term temp work: This is the largest category of staffing we provide. In most cases, the jobs we fill for short-term dental temp jobs that usually last anywhere from a couple weeks to a couple months. We fill openings for dental assistant temps and more.
Long-term temp work: In this category of staffing, we find employees who are available for consistent full-time dental temp employment with an indefinite duration. Some employers might specify a length of time, while others might search for temp workers on an "as-needed" long-term basis.
Same-day emergency temp work: There are constantly openings for same-day work, usually opening up the night before or the morning of. We are able to quickly reach out to available workers who can come in and fill your openings on very short notice.
If your dental practice is in need of workers in any of these categories, Dentu-Temps is able to fill those positions! We have a large selection of workers who are looking for dental temp employment and are able to take up a job on short notice. For more information about the services we provide and why Dentu-Temps is the right source for dental temp jobs and dental assistant jobs in Palo Alto, CA for your practice, we encourage you to contact us at 650-967-6012.