Dental Staffing Agency in Palo Alto, CA
Dentu-Temps has been a premier dental staffing agency since 1980, working to address the various demands of the dental profession. Our goal is to find you qualified employees with a strong dental background to help you build an outstanding team!
Learn more Information for temps
Your Local Dental Temp Agency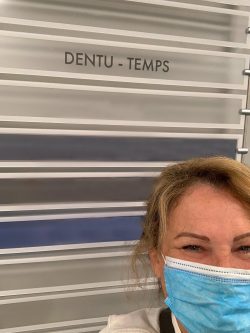 Founded in 1980, Dentu-Temps has built an outstanding reputation for dental hygienist staffing services based on 36-plus years of integrity in our long-standing relationship with the dental field. At the time of our founding, we recognized that there was a need for a specialized dental staffing agency to address the demands of the dental profession. We have worked diligently since then to identify prime candidates for dental temp jobs in Palo Alto, San Mateo County, Santa Clara County, and the San Francisco Bay Area, CA, and to get them into the correct positions. Our goal is always to find good fits for dental offices and temporary employees alike.
As a full-service dental staffing agency, we provide full-time placement, short- or long-term temporary staffing and same-day or last-minute placements! Because we exclusively serve the dental profession, we understand how significant an impact having a qualified dental professional can have on an organization. Our goal is always to find you the most qualified, hardest-working employees for your practice, and we're able to fill positions for dental assistants, dental hygienists and front desk staff. When you're experiencing a staffing shortage or find yourself in need of an unexpected replacement for a departing employee, here are just a few reasons to consider working with our dental temp agency in Palo Alto, CA, then contact us today:
We are able to provide you with employees for whatever length of time you need them.
We work with practices all over Santa Clara County.
We have more than 36 years of experience as a dental temp agency in dental job placement.
We are able to provide same-day temps for emergency situations.
We pride ourselves on providing outstanding customer service.
Contact Us Today
For more information about the dental job placements we provide, we encourage you to contact us today at Dentu-Temps.
Areas Served
Proudly providing dental job placement to the following areas:
Daly City, CA
Santa Clara, CA
Redwood City, CA
South San Fransisco, CA
San Bruno, CA
San Jose, CA
Sunnyvale, CA
Santa Clara, CA
Mountain View, CA
Milpitas, CA
Palo Alto, CA
Santa Clara County, CA